DIY Music Box: Creative Wooden Craft Kits for 6-15 Year Old Kids
DIY Music Box: Creative Wooden Craft Kits for 6-15 Year Old Kids
DIY Music Box: Creative Wooden Craft Kits for 6-15 Year Old Kids
Have you ever thought of an idea to build a DIY music box? Then do try these DIY music box crafts for your kids as valuable early childhood education. The choice of toys for toddlers depends greatly on their interests; also, musical instruments are very popular among children. There are various musical instruments for kids, but the box with steady rhythms is considered best.
What Is DIY Music Box Puzzle?
DIY music box puzzle is a new toy that has become very popular among children. It is a small toy box with a movable lid. It can play different tunes when you open and close it. A small speaker inside the box creates the melody. You can make this toy yourself or buy the pre-made one online.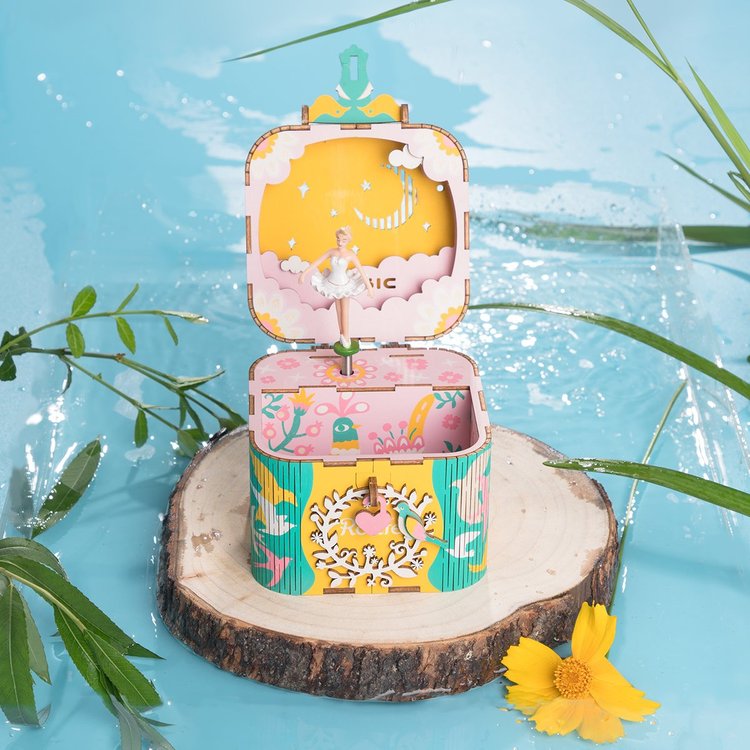 Why It's A Great Toy Choice for Kids?
There are many reasons why music box puzzles are great toys for kids:
First of all, they are easy to make at home. They do not require any special skills to assemble or build them. They can be finished in less than an hour, which makes it very easy to take them out of the box when they are done playing. This means that parents can take them out of their house without worrying about damaging other objects around their home or getting into trouble with neighbors who might complain about loud noises coming from the house at night when everyone else is sleeping!
Second, these toys do not cost much money! You only need basic tools and materials like wood scraps and cardboard boxes so that you don't have to spend too much money purchasing expensive tools or materials such as metal rods.
DIY a Music Box is a toy that allows you to build your music box. It is made from wood, wire, and other materials and has a dial to control the sounds of the music box.
The idea behind DIY a Music Box is that it allows you to create a beautiful music box with no prior knowledge or experience. The only requirement is that you have some basic tools and a few hours to spare.
Do it yourself a Music Box can be an educational tool for kids and families because it teaches them electricity, creativity, and problem-solving skills.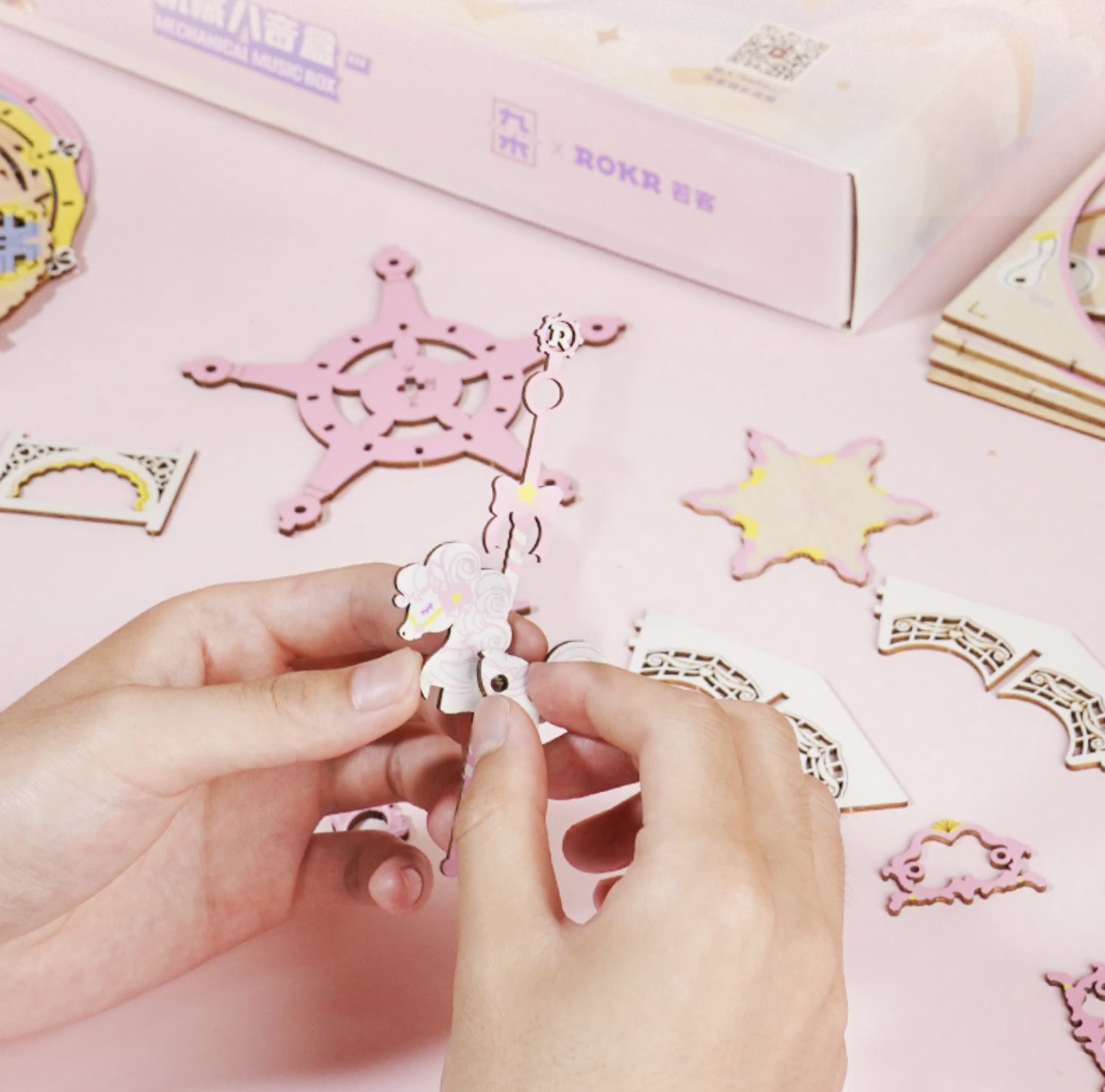 How Can DIY Music Box Kits Help Kids' Future Development?
Music box puzzles are a great way to teach kids about music. They can be made from inexpensive materials and don't require expensive tools or instruments. The most important thing about making music boxes is that the kids create their own musical instrument and learn how it works. There are many advantages of do-it-your-self music box kits, which include:
First, by using the kit, children can learn a lot about sound and make their music boxes. The kit helps children develop their hands-on ability, which is one of the most important skills for kids to learn in a long time. It also helps children increase their imagination and creativity.
Second, by making it themselves, kids will know how to make things with their hands and use authentic materials they find around them. This is an important skill for developing children's independence because they will have to use tools independently in the future.
Third, it can help children improve their communication skills by sharing ideas with others and talking about what they did while making the music box. For example, if someone sees a leaf on the ground or another person has a flowerpot full of plants outside his home, he can share his knowledge with others who are making music boxes at home together."
Do self music box kits are a new way to help kids develop their hands-on ability. It helps them learn how to work with their hands and minds together. They can also use their imagination and creativity to make music boxes, which will be a great experience. And they can play with the music box in a fun way.
Do it your self music box kits provide them with an opportunity to learn how to use tools and materials creatively. They can learn to use different tools and materials, such as wood, glue, etc., by themselves. This is an effective way for children's development because it allows them to practice doing things independently without depending on adults or other people around them.
DIY music box kits also help increase imagination & creativity by giving children an opportunity to create something new from scratch by themselves. Children usually have lots of imagination when playing games or watching movies; however, most don't know how to apply this imagination in real-life situations yet. When they build something from scratch with the help of DIY music box kits, it will help boost their self-confidence and encourage them to try more things in the future.
4 DIY Music Box Wooden 3D Puzzle Kits We Recommend
Robotime is a top-rated DIY Craft toy company that provides customers with high-quality and low-price model building kits that include DIY music boxes. Their 3D wooden puzzle kits are available in various sizes and styles per customer needs. They are also designed so that they can be assembled by adults or children less than 16 years of age. If you enjoy creative projects and are looking for an interesting project that will last a lifetime, look no further than Robotimeonline! Below is recommend of 4 wooden DIY music box puzzle kits from Robotimeonline.com:
The ROKR Romantic Carousel Music Box AMK62J is a dreamy wooden DIY-music box puzzle kit Robotime has designed inspired by the real merry-go-round ride in the amusement park. The kit has a diameter of about 6cm and comes with all the necessary hardware for assembly. The kit is made from birch plywood and can be assembled with basic tools like a screwdriver or drill.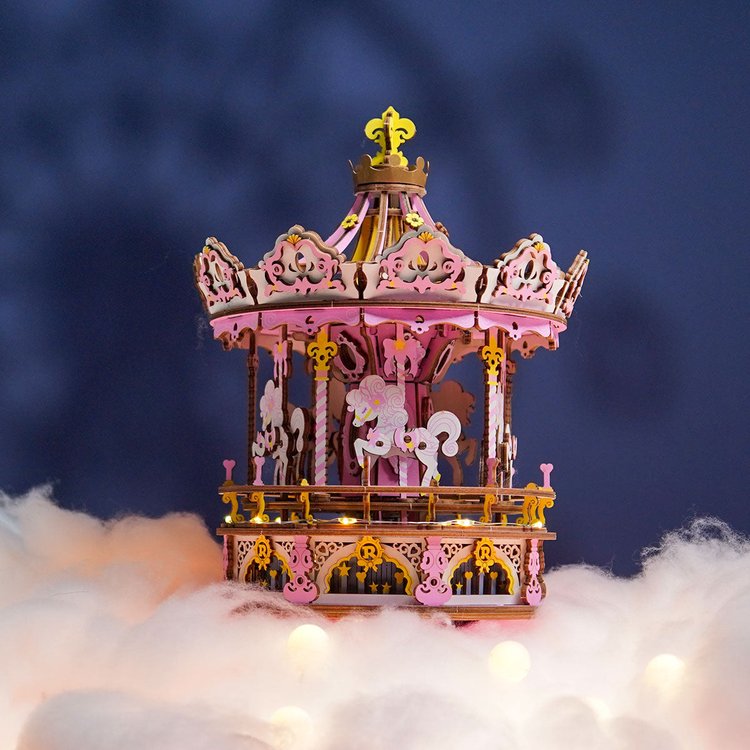 It is an excellent choice for anyone who wants to make their music box but has no experience in the area. The kit includes detailed instructions on assembling the puzzle box, making it easier for beginners to follow along.
This wooden music box kit also comes with a few extra parts, such as gears and other components that are used to make different sounds when you turn them around your hands. These sound effects are great for children who want to learn about different types of music and instruments by turning them around in their hands or putting them together in different combinations.
The ROKR Starry Night Orrery Mechanical Music Box AMK51 is a beautiful wooden music box you can assemble yourself. It features a starry night orrery and a mechanical music box with chimes. The starry night orrery features a rotating disc around the sun, moon, and stars. The mechanical music box features four chimes that play different melodies when pushed down into the box by an operator. This music box kit is available in different sizes. If you're looking for a gift idea for someone who loves astronomy or science-related things, then this is something you should consider buying for them!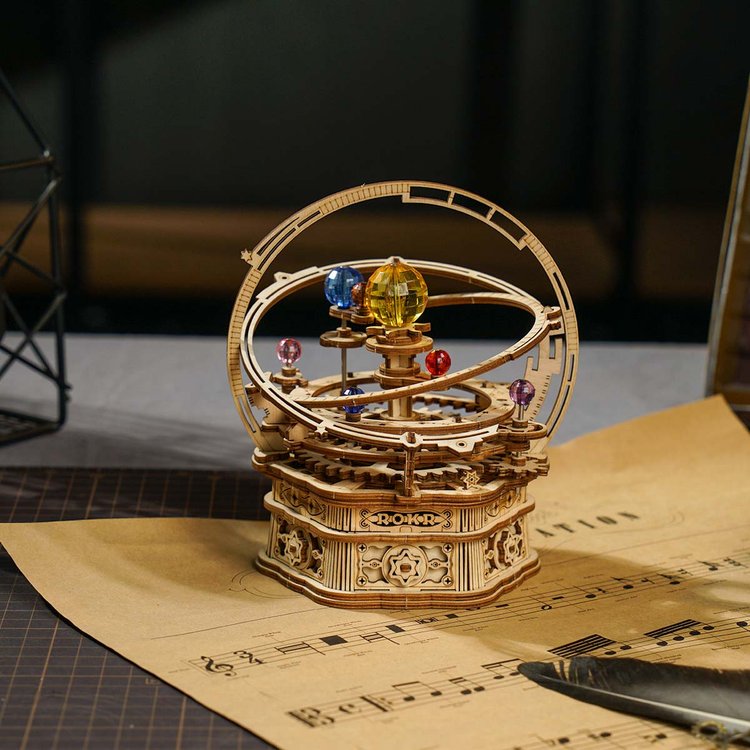 This ROKR Swing Ride DIY Music Box 3D Wooden Puzzle EA02 is a wonderful gift for your loved ones. Its design is inspired by the real swing ride in an amusement park. The puzzle kit includes all the necessary tools required to complete the puzzle. You can use this ROKR puzzle as a decoration or assemble it and keep it as an ornament. This 3D Wooden Puzzle music box kit is one of the tops recommended products because it's both fun and educational!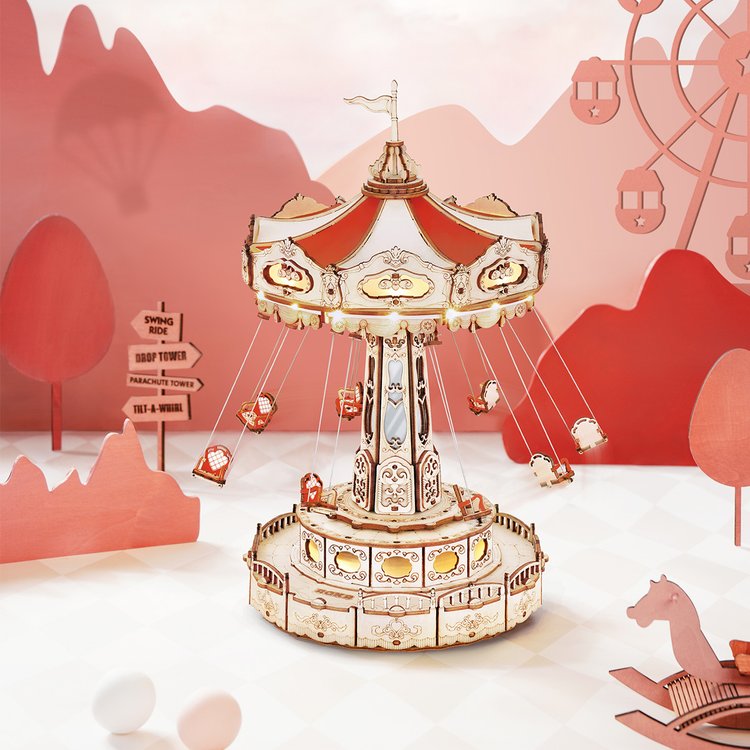 The ROKR Orpheus DIY Music Box 3D Wooden Puzzle AM601 is a cool 3D puzzle kit that looks like a robot. The kit includes all the necessary tools and easy-to-follow instructions to assemble this musical instrument in minutes. It has a mahogany frame, maple top, brass handle, and a maple soundboard with brass accents. You can choose from a variety of colors to match your décor. It is designed for kids ages eight and up and takes less than an hour to complete. This wooden puzzle kit is great for those who love music, mechanical gear, or want to learn how to build something themselves!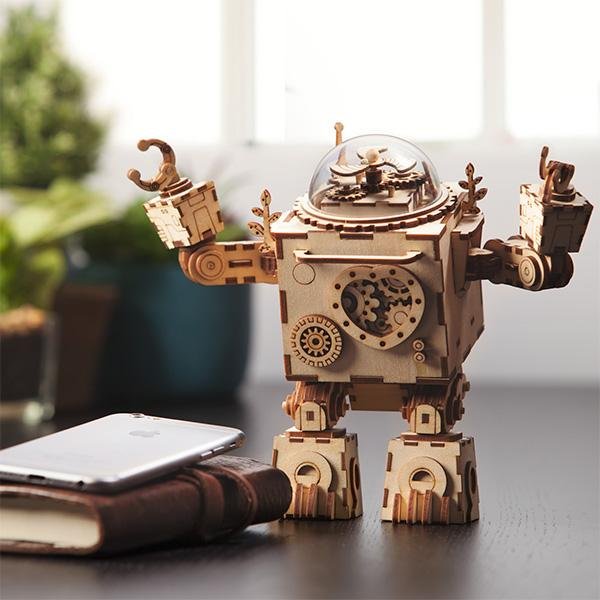 Wrapping Up
Hands-on DIY music box puzzles are a fantastic way to teach children about music, rhythm, design, and engineering. Whether you want to make one as a fun activity for your child and maybe give some away as gifts or sell commercially, there is no better way of giving them their own special wooden music box than making them yourself.