ROKR Orpheus DIY Music Box 3D Wooden Puzzle AM601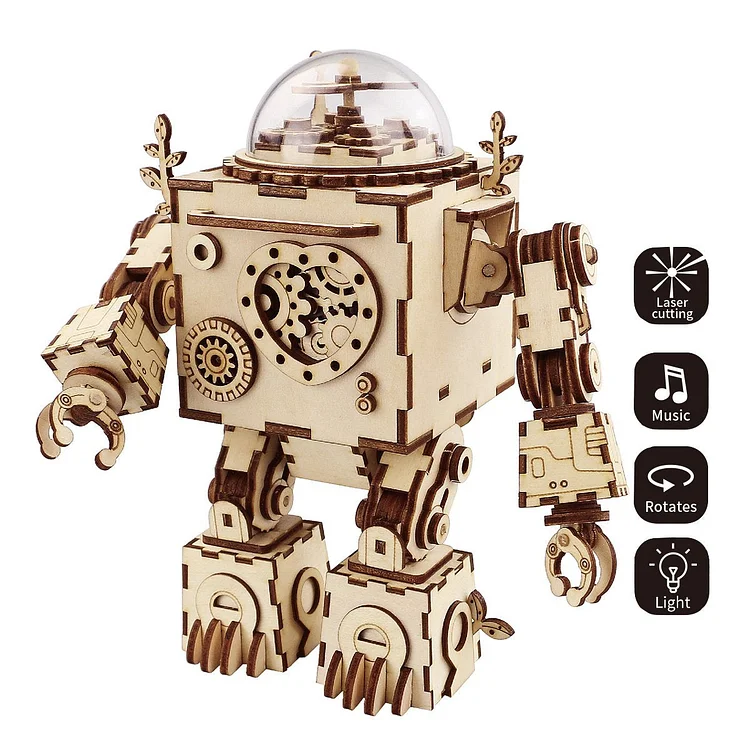 Product information
Assembled Size:
5.9*3.6*7.3"(15*9.2*18.5cm)
This ROKR Orpheus DIY Steampunk Music Box AM601 3D wooden puzzle is super cool and unique. This model is made from natural materials. The assembling process is challenging and educational. Such processes are especially beneficial for kids as it enhances creative thinking skills, promote critical thinking skills, and develop problem-solving and reasoning skills as children use their imaginations.

The crisp and warm music of the music box can always help us take away the sadness and give us more sweetness and tranquility. As if the music will accompany you to regain the beauty from the time you never return. *Due to customs policy, wax, glue, or battery may not be included in the package.
【ORIGINAL DESIGN MUSIC BOX】Special gift-Colorful Orpheus, A robot diy music box that plays music. It can play beautiful sounds of music, letting you enjoy the melody. In addition, it can be with you quietly, bringing you a warm and interesting atmosphere. Adopting import premium Japanese movement steel, the movement process is exquisite and the sound quality is perfect and lasting.
【LASER CUTTING & NATURAL WOOD】Using German laser cutting technology, under 5/1000 burr, smooth touching. Made of natural wood with no deformation, multi-layer wood pressing, the real textured material, and thickness. Reach Certificate, contain non-toxic materials which are safe for hands. It is safe for yourself, friends and family!
Detailed Instruction Book
There are clear and understandable pictures and texts in the manual. Take out the corresponding numbered wooden pieces and assemble them as pictures. In addition, we also have a detailed assembly video, which is posted on the official YouTube account.
Exercise your Brain
Hands-on way to exercise logical thinking and fine mental skills. In this process, kids would be more patient and prudent! It brings a tremendous sense of accomplishment and can show it off to friends and family.
Rewarding Assembly
The delicate model needs your patience and concentration. But the grand result will be rewarding.
A Great Gift and Worthy of Display
This 3D wooden puzzle is a great gift to someone or special home decor for anyone. It will make a memorable gift that will be cherished forever. No one will refuse such a fairy house gift!