Laser-Cutting Wooden Mechanical Models: The Perfect Holiday Gift
Laser-Cutting Wooden Mechanical Models: The Perfect Holiday Gift
Laser-Cutting Wooden Mechanical Models: The Perfect Holiday Gift
Things to Know About Laser-Cutting Wooden Mechanical Models
If you're looking for a unique gift for this holiday season, choose one laser-cutting wooden mechanical model! These intricate and stunning models are easy to assemble and suitable to be as great gifts because they're both interactive and educational.
The working principle of wooden mechanical models is closely related to mechanical engineering, and they may involve many fields such as dynamics, structural analysis, thermodynamics, electricity and so on. It's hard to imagine that after continuous development, these laser-cutting wooden mechanical models have become more and more diverse from a single structure. You can find almost any model you want. And don't worry if you lack crafting experience—these kits require no tools or glue, just your hands! They also include clear instruction that teaches you how to build your model step by step.
Why are They the Perfect Holiday Gift?
We've all been there. The to-do list for the holidays has become longer than an episode of Downton Abbey, and you're left trying to find that perfect gift for your boss's son or your Aunt Sue who loves clocks. You don't want to buy something too personal because that can make things awkward, but you don't want them to be disappointed when they open it either. Luckily, you have a solution this year. I'm talking about laser-cutting wooden mechanical models - the perfect holiday gift! They're well received by nearly everyone who opens (no hurt feelings here) and they look nice on their desk without making things feel too personal.
Plus, they are way more meaningful than other gifts. And we select wood materials made from high-grade 100%-natural plywood - these little beauties will last forever as long as you take care of them.
How to Find the Perfect Wooden Mechanical Models
There is no denying that flawless gifts are preferred because they could be called "perfect". That means people who receive this gift enjoy it.
Firstly, this model should be high-quality, and each detail should be precise with great visual effects.
Besides, you need to consider the function it owns. Is it fun or nice? Is it suitable for being a home decoration? Is it practical? In addition, if you want to buy gifts for your kids, is it suitable for them to assemble them by themselves?(Looking for some models for kids, we recommend you read DIY Music Box: Creative Wooden Craft Kits for 6-15 Year Old Kids).
Recommend You the Best Wooden Mechanical Models
Do you want to buy some wooden mechanical models as gifts for your friends or family? Here is a guide to help you choose the right wooden mechanical models.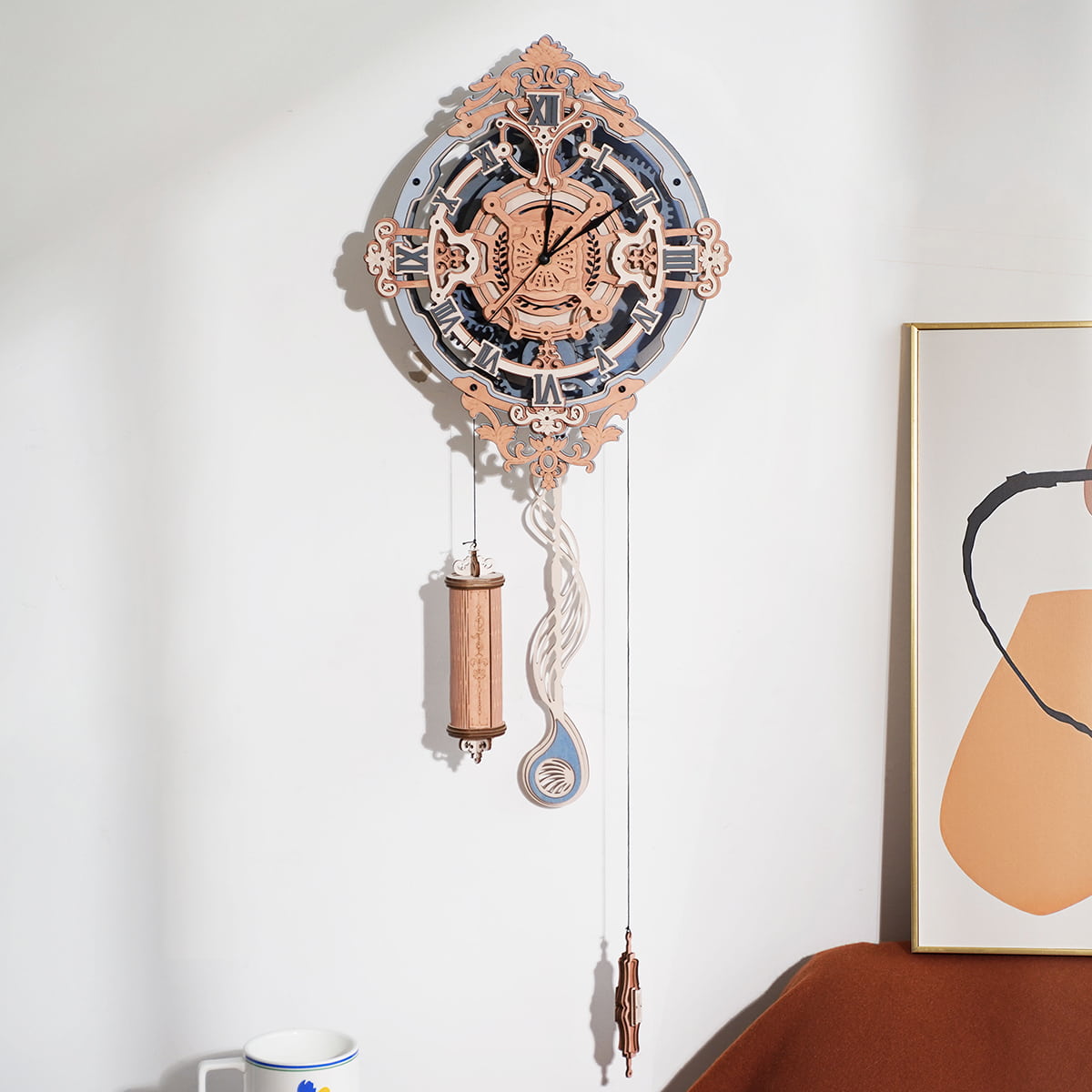 This is a very popular clock model. Once completed, it can tell you the exact time like a real clock. As the picture shows, it has a beautiful appearance. In addition to the structure of the clock itself, it also adds a pendulum, and you can choose to let it swing or stand still. The pendulum probably has a swing time lasting 2-3 hours. Moreover, its swings thanks to mechanical and gearing.
If you're looking for a gift for someone who are romantic and beautifying rooms, you should consider buying it for them!
This is probably the globe model that most people who are geography and science lovers! It has a beautiful appearance and is a real globe. Moreover, it adds more practical functions, such as being used as a night light to light up your room; you can dial the magnifying glass back and forth to help you see each country's geographical locations' name clearly. If you send it as a gift for your friends, I believe they will like it very much and cherish it.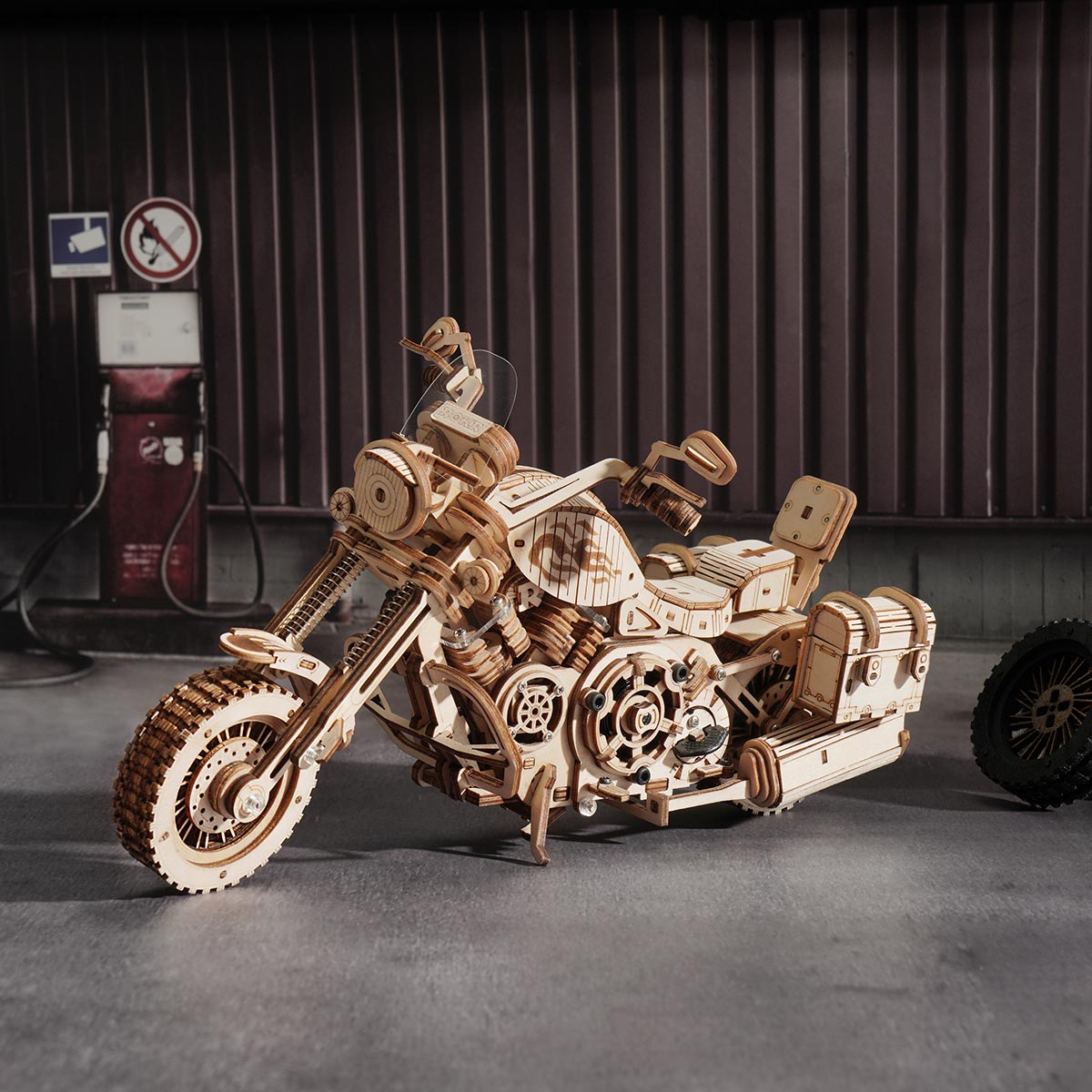 Maybe you have seen a running motorcycle toy, but you have rarely seen a motorcycle model made from wood! Just crazy. But honestly, it's so cool. Once completed, you only need to spin the clockwork to charge it up and let it run on the road.
In addition, as a model, it truly restores the details of the cruising motorcycle, and you can park it in any position you like with the help of the pedal braking system. With it, let your family and friends learn about gravity, gear, design and engineering concepts as you build!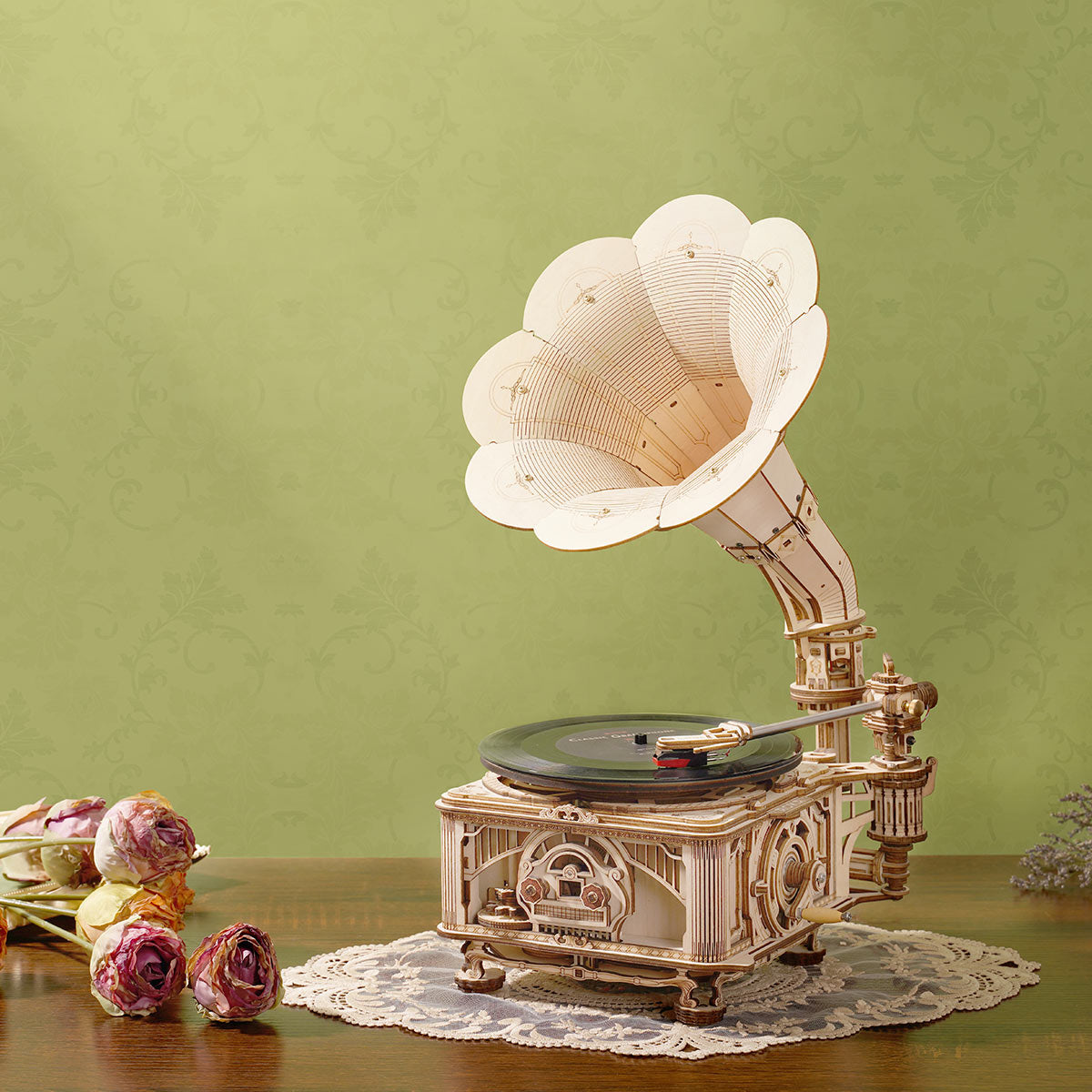 I have to admit that this gramophone is a very classic wooden mechanical puzzle. It is very representative, so most people like it. If you want to add style to your room, don't miss this product. Because not only can it decorate your room, but it can also play vinyl records like a real gramophone. And if you're interested, you can turn your favourite music into vinyl records and play them with this gramophone.
There are two versions of this gramophone - manual and electric. The manual version requires you to turn the handle to make it work and play music, while the electric version doesn't require you to turn it. If you want to listen to music and don't want to turn the handle, I would recommend the electric version to you, because that is more friendly.
Last Thought
That's all this blog for introducing you to Wooden Mechanical Models. As a company specializing in developing and producing 3D Wooden puzzles, Rokr has produced many 3D puzzles with mechanical elements. They have different styles, but one point is the same: expressing creative ideas with precise structure and interpreting geek spirit with hardcore modelling.