Rolife Island Dream Villa DIY Wall Hanging Miniature House Kit DS022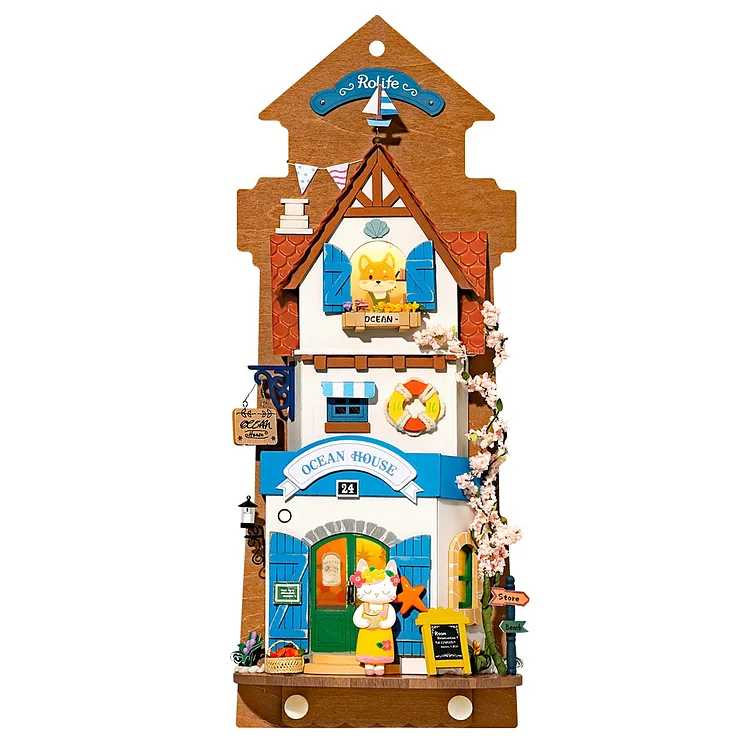 Product information
Assembled Size:
4.8*3*11.8"(12.2*7.6*30cm)
Welcome to Ocean House villa! This Animal Store Series - Island Dream Villa is a DIY wall hanging miniature house kit that could build with your own hands. This is a beautiful seaside villa that welcomes all travelers around the world. If you love traveling and chilling beside the sea, then don't miss it! This villa hotel is a great place for you to stay. Look! The Shiba is winking at you! He must be one of our new customers. Say 'Hi' to him!
Stylish Wall Decor: This unique DIY wall hanging can add a touch of extraordinary style to your home or office. It's a great home wall decoration that is built by you!

3 Mounting Ways: After finishing building this wall hanging, it has three easy mounting ways to help you attach to the wall - reeve, hang through the round hole and hang through the back trough.

Easy Switch to Desk Decor: It can be immediately switched to a miniature house desk decoration by simply pulling the bottom board out to stand on the desk. When you switch it back to a wall hanging and pull the board in, it can also hang your light stuff such as keys.

Built-in Battery Case: This DIY miniature house also includes a built-in battery case, with 2 AAA batteries for self-preparation. Turn the lights on for a better display effect at night!

Perfect holiday gift: This wall hanging is a great gift for your family and friends on holidays & birthdays! Personalized gifts make for the most thoughtful gifts! Be prepared to make your beloved ones smile!