Rolife Magical Cafe Miniature Dollhouse Kit DS004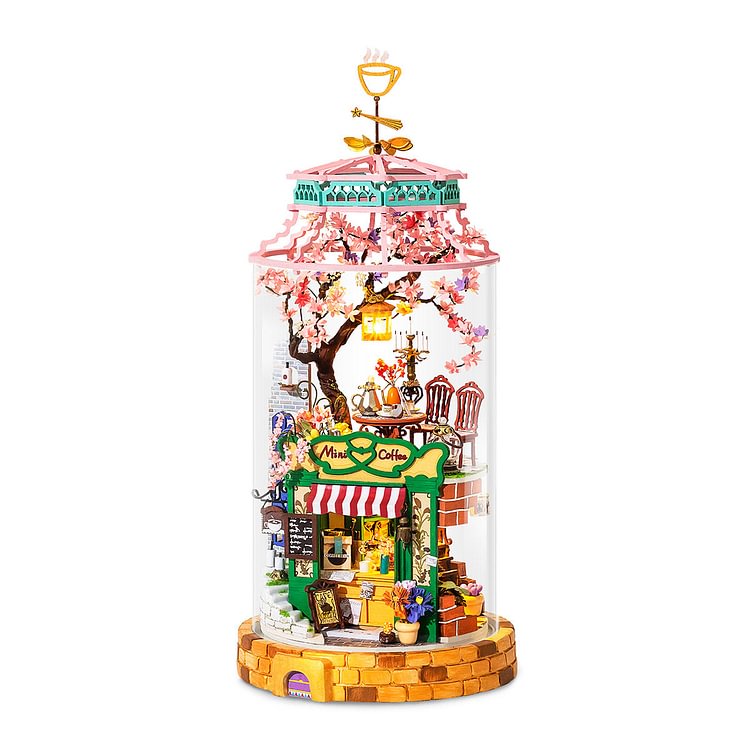 Product Inclusions:
– Circular glass cover
All figures found in the picture
Product description:
weight: 0.84kg
-Dimension: 126mm*120mm*248mm
Scale 1:24
Product materials: wood, fabric, paper, plastic, metal
Level of difficulty: 2/5


Perfect present for all occasions
*Due to customs policy, glue, battery or pigment may not be included in the package.
Small and Eco-Friendly
Our Robotime DS001 Domed Loft DIY miniature dollhouse kit is definitely 1:24 scale well-crafted. All accessories are usually ordered perfectly in separate bags. Gleam a step-by-step manual inside it. The kit is constructed of eco-friendly materials sufficient reason for no burrs. The color is odorless and may also be very easily beaten up by water.
DIY Dollhouse and Handmade Toy
This DIY miniature house kit can make you love arts and crafts. It requires period|moment and patience, but you will feel significantly fulfilled as soon as you finish it. You might color, assemble, stitch, and also be an architect in such a lovely DIY miniature house collection. Don't worry, they're easy to create even though you are a newbie. Just carry out the instruction and it'll not be too much. You'll not just have a good activity, but also create a surprise dollhouse on your own.
Come to be Patience and Sense Amazing
To create it, patience may be the ultimate essential to success. It could be assembled with family members, friends, and enthusiasts to see the enjoyment of hands-on. A feeling of accomplishment should come when it's finished. It is possible to redecorate the miniature house and add your new development. After turning around the light, it creates a comfy, adorable room to check out as soon as and awhile
Perfect Gift and Excellent INTERIOR DECOR
Nobody will refuse this type of fairy house{present If you're a DIY enthusiast or show patience and time, the product is very ideal for you, it really is more delicate compared to the average handicrafts. Furthermore, it's rather a creative birthday, Xmas, Valentine's Day present or interior decor for boys, girls, boyfriends, girlfriends, dad, mom, wife, daughter
Issues Needing Attention
The material from the DIY miniature dollhouse is precise, so don't waste materials at every stage and utilize it based on the instructions, otherwise, it'll bring about the lack|scarcity of the ultimate parts. You shouldn't be discouraged if something within the kit is damaged, use your creativity to repair it. The electric battery is not contained in the shipping)