Top 8 the Most Difficult 3D Wooden Puzzles of Rokr in 2023
Top 8 the Most Difficult 3D Wooden Puzzles of Rokr in 2023
Top 8 the Most Difficult 3D Wooden Puzzles of Rokr in 2023
As of June 2023, the Rokr 3D wooden puzzle family has grown to include multiple collections in many styles. Whether a beginner or an expert, kids or adults, you can find a 3D wooden model kit that suits you.
However, with more and more users worldwide, other players have different opinions on the difficulty of Rokr 3D wooden puzzle models. Since this is the case, let Robotime introduce you to 8 models we think are the most difficult to assemble Rokr because these 8 are complex and most challenging!
Top 8 The Most Difficult 3D Wooden Puzzles of Rokr
Difficulty level: ★★★★★★
Estimated assembly time:12 hours+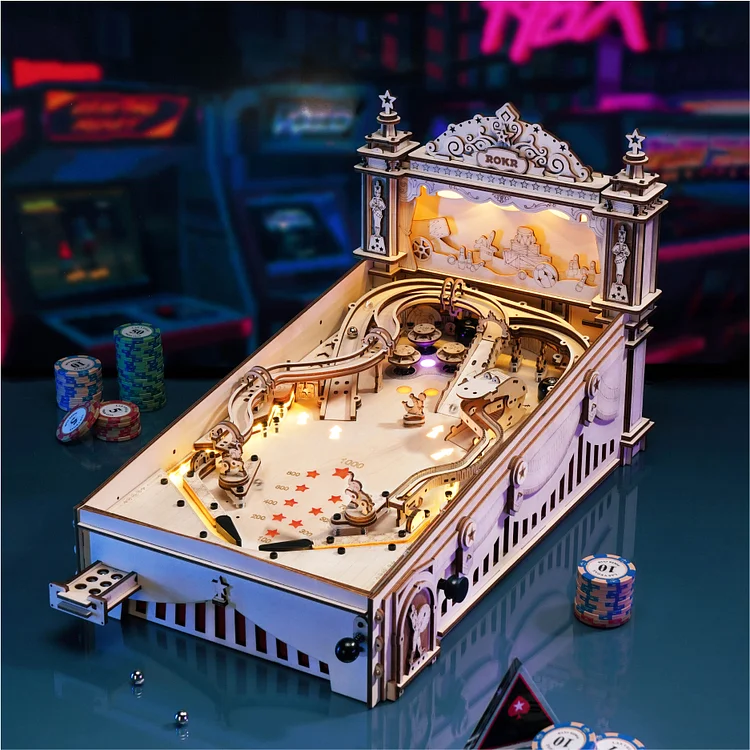 Rokr 3D Pinball Machine 3D puzzle is a perfect replica of the 90s 3D pinball game that allows you to relive the fun time. Once you have assembled it, you can play with your family or friends and see who can score the highest.
However, assembling it is difficult as it is Rokr's most challenging 3D wooden puzzle. Rokr has given it a difficulty rating of 6 stars and explicitly mentions that it requires 12 hours of assembly time. It's better not to take on this challenge if you are a beginner.
But on the contrary, if you successfully complete it, you will appreciate all the effort because it is truly worth it. It is definitely the best 3D wooden puzzle for adults so far.
Difficulty level: ★★★★★
Estimated assembly time:8-12hours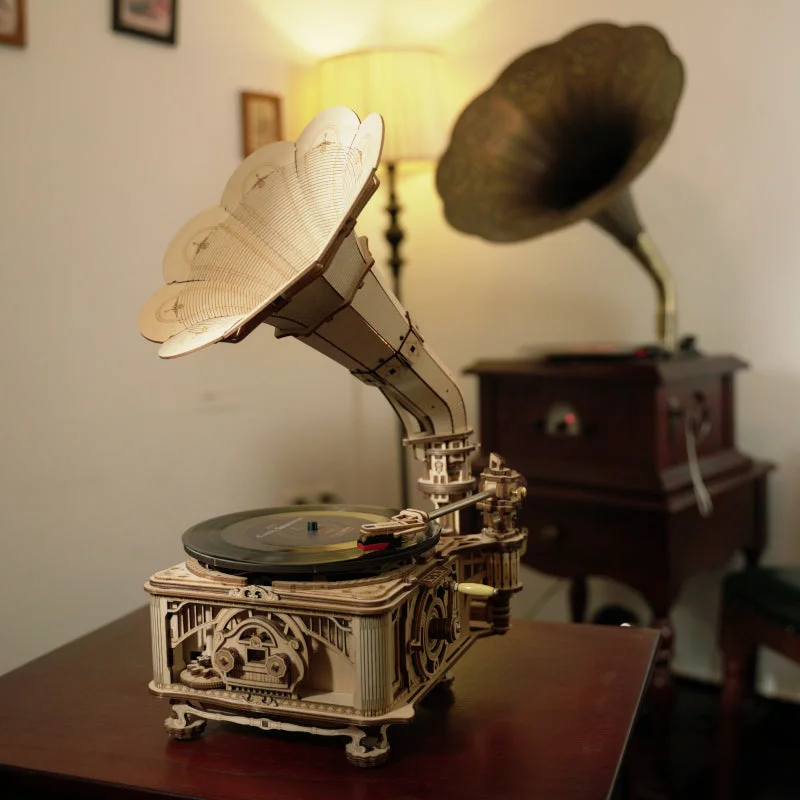 The ROKR Classic Gramophone is a real gramophone that can play records and has 424 parts. It's accepted that more parts mean more difficulty. In addition, to make it play the record perfectly, you need every part to be appropriately installed and run smoothly. The process is full of challenges, and patience is just as important.
Difficulty level: ★★★★☆
Estimated assembly time:7-10hours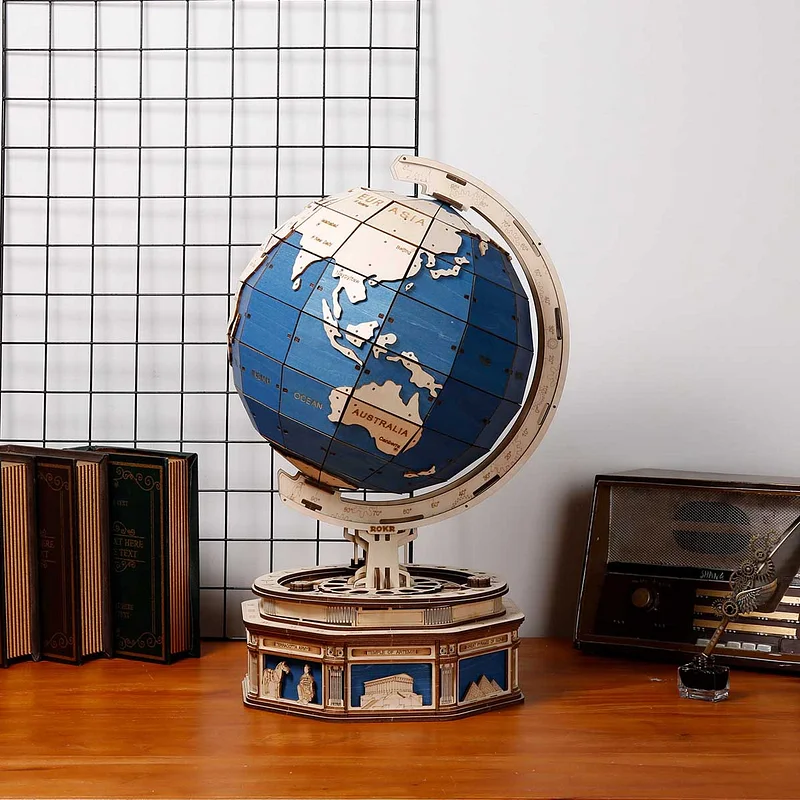 If you measure difficulty by the number of parts, The Globe should be the hardest because it has more parts - 567 parts. In addition to a large number of parts, because it is a teaching tool that can be used as a globe, so during the assembly, we need to ensure that every part is installed correctly according to the actual globe structure. Once assembled, it will be a huge model of a classic-style wooden globe with a secret drawer that must be coded for the constellation lock. It's a huge challenge for your hands and mind!
Difficulty level: ★★★★☆
Estimated assembly time:6-8hours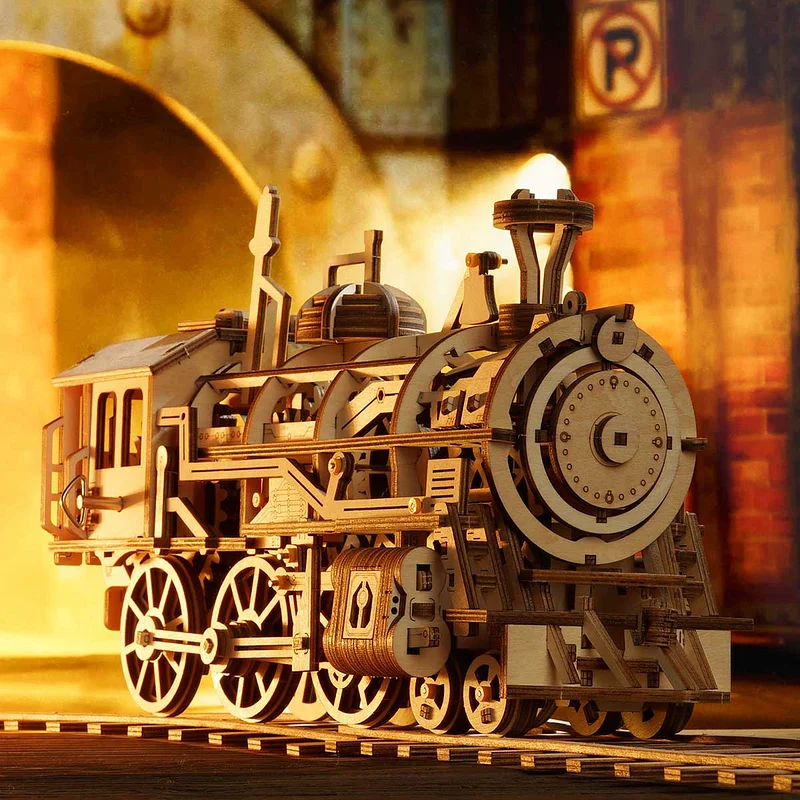 ROKR LK701 is a locomotive of a highly restored steam train. After the assembly, it can be run by turning the mainspring, which is the best choice for mechanical enthusiasts. However, it is not an easy task to assemble it perfectly. It contains 349 parts. The entire fuselage has several gear connections, and the gears restrict each other. Therefore, you need to test your patience and have a specific understanding of mechanical gears to complete it better.
Difficulty level: ★★★★☆
Estimated assembly time:6-8hours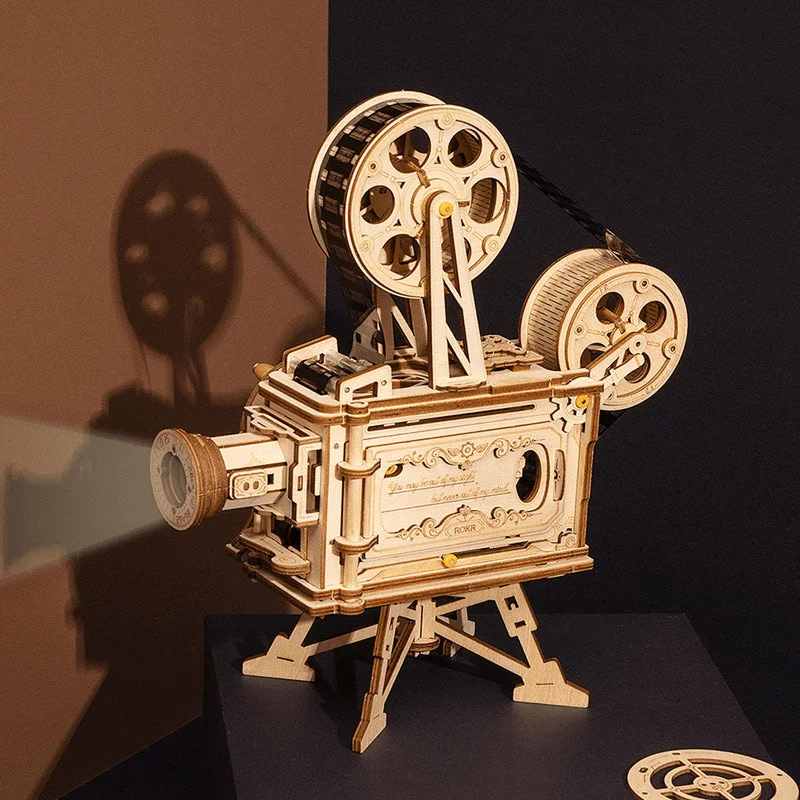 The ROKR Vitascope LK601 is an old-fashioned projector that can play movies. Enjoy a black-and-white film of Chaplin's classics with friends and family by turning the joystick. However, the assembly process is also complicated, although it only has 183 parts. It isn't easy to require a perfect combination of parts to play the movie smoothly, which requires you to maintain a high degree of care during the assembly process.
Difficulty level: ★★★★☆
Estimated assembly time:6-8hours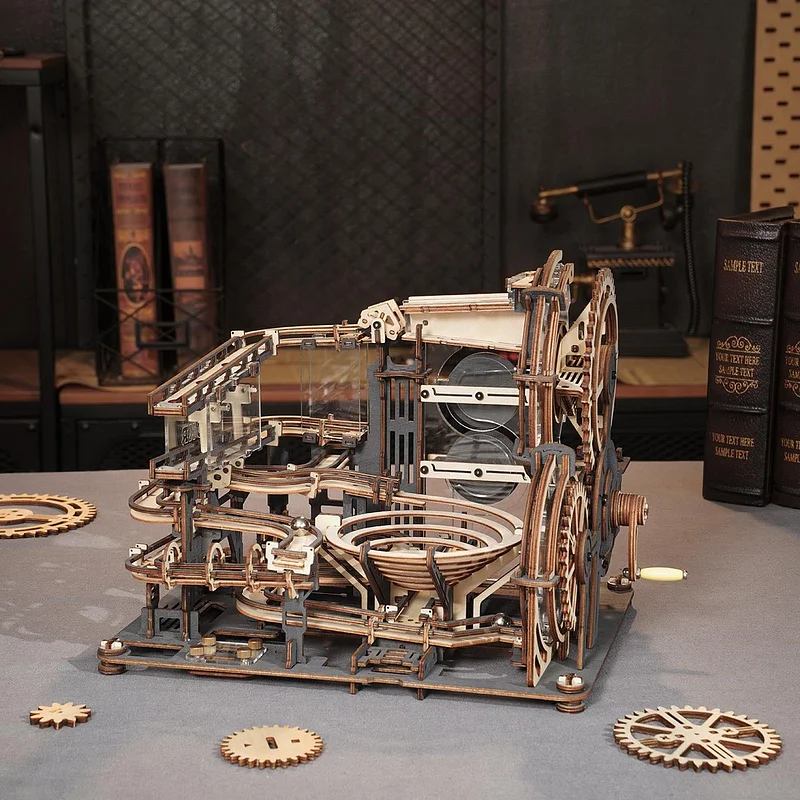 With a total of 294 parts, the ROKR Marble Night City, with its tower dispenser and track race ball, combines science and machine beauty and is well worth exploring. Watch the marbles run wild on slopes and twisty turns as you shake the handle. It is difficult because many parts need to be connected and not affected by each other. Making the steel ball run smoothly on the track is not an easy task.
Difficulty level: ★★★★☆
Estimated assembly time:6-8hours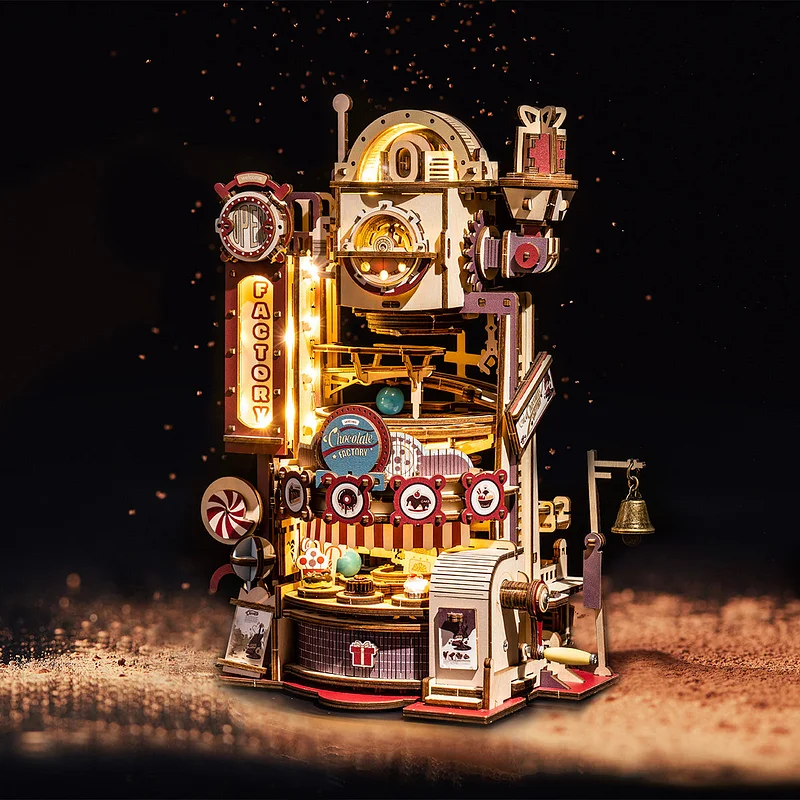 ROKR Chocolate Factory is a new product that many fans and geeks have loved within half a year of its launch. Unlike other 3D wooden puzzles, we use a retro robot factory as its shape—a lovely dessert house in retro tones with sophisticated styling. We set up a double downhill track, and the lower half of the trail is equipped with a semi-circular inclined ladder, an arc-shaped straight ladder, and an S-shaped inclined rail, adding more gameplay. At the same time, it has many parts, as many as 420 pieces. There is no doubt that it is challenging work to complete.
Difficulty level: ★★★★☆
Estimated assembly time: 6-8hours
ROKR Orrery is a perfect educational 3D wooden puzzle. Astrophysicists who love exploring Solar system-planetary orbits don't miss it. It truly imitates the orbits of the eight planetary systems in the solar system. When you turn the handle, the entire galaxy can rotate around the sun, and the picture is shocking. Of course, it is not easy to complete it. It has 316 parts and weighs 2kg. It also requires close cooperation between the parts to run smoothly. This process requires you to be extra careful. Come on! You will do it perfectly!
Note:
The company's internal product development provides the above product difficulty ratings and has certain reference significance;
★ represents a full star, ☆ represents a half star;
ROKR 3d wooden puzzles all use the C02 laser cutting process to control the error within 0.05mm. All of this results in laser-cutting pieces that easily click into place together and dramatically reduce the chance of needing to use excessive force or glue during assembly.
Last Conclusion
We like to challenge difficulties because once it is done, it will bring us more sense of accomplishment, which is the joy of success. So, which of the above 8 Rokr 3D wooden puzzles do you think is the most difficult to assemble? What challenges have you completed?
Of course, the Rokr family brings you great options for every occasion and holiday, creative building fun, enjoy the parent-child time, and they all have different functions, may be practical, may be fun. You can choose according to your preference. Once assembled, you can also put them in your home as beautiful decorations or gifts for your family and friends. Soldiers who like geek challenges don't hesitate.
Hurry up! Back to our 3D wooden puzzles collection and place an order to challenge it!