A Year in Review: Robotime in 2022
A Year in Review: Robotime in 2022
A Year in Review: Robotime in 2022
Dear friends, 2022 has ended and we are now in new year 2023. During the previous year, Robotime conducted a review and would like to discuss our plans and emotions with players, which we will share here. Our review is divided into two sections: the release of new products and some thoughts.
What's new?
One of the highlights of the past year was the launch of several new products, which have been well-received by everyone. They are:
Rokr 3D Puzzles
1. ROKR Chocolate Factory LGA02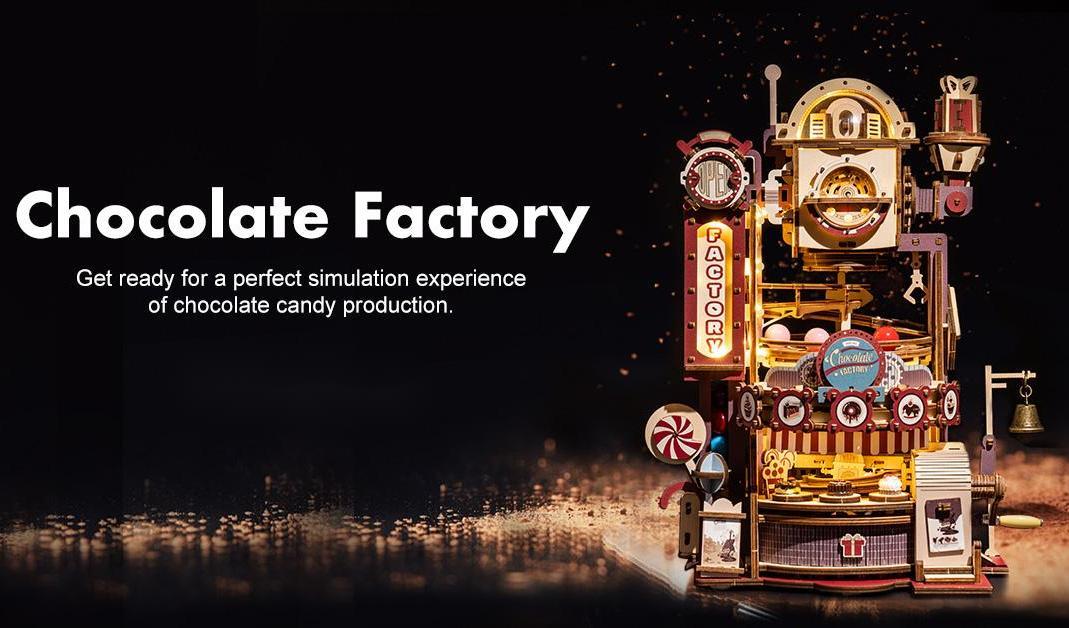 Undoubtedly, this is one of the most classic puzzles from ROKR, featuring a combination of elements and technologies commonly found in their products, such as integrated multi-layer gear transmission and a unique design style.
Learn more: Build Your Own Chocolate Factory: A New member of Marble Run - ROKR Chocolate Factory LGA02
2. ROKR Romantic Note Wall Clock LC701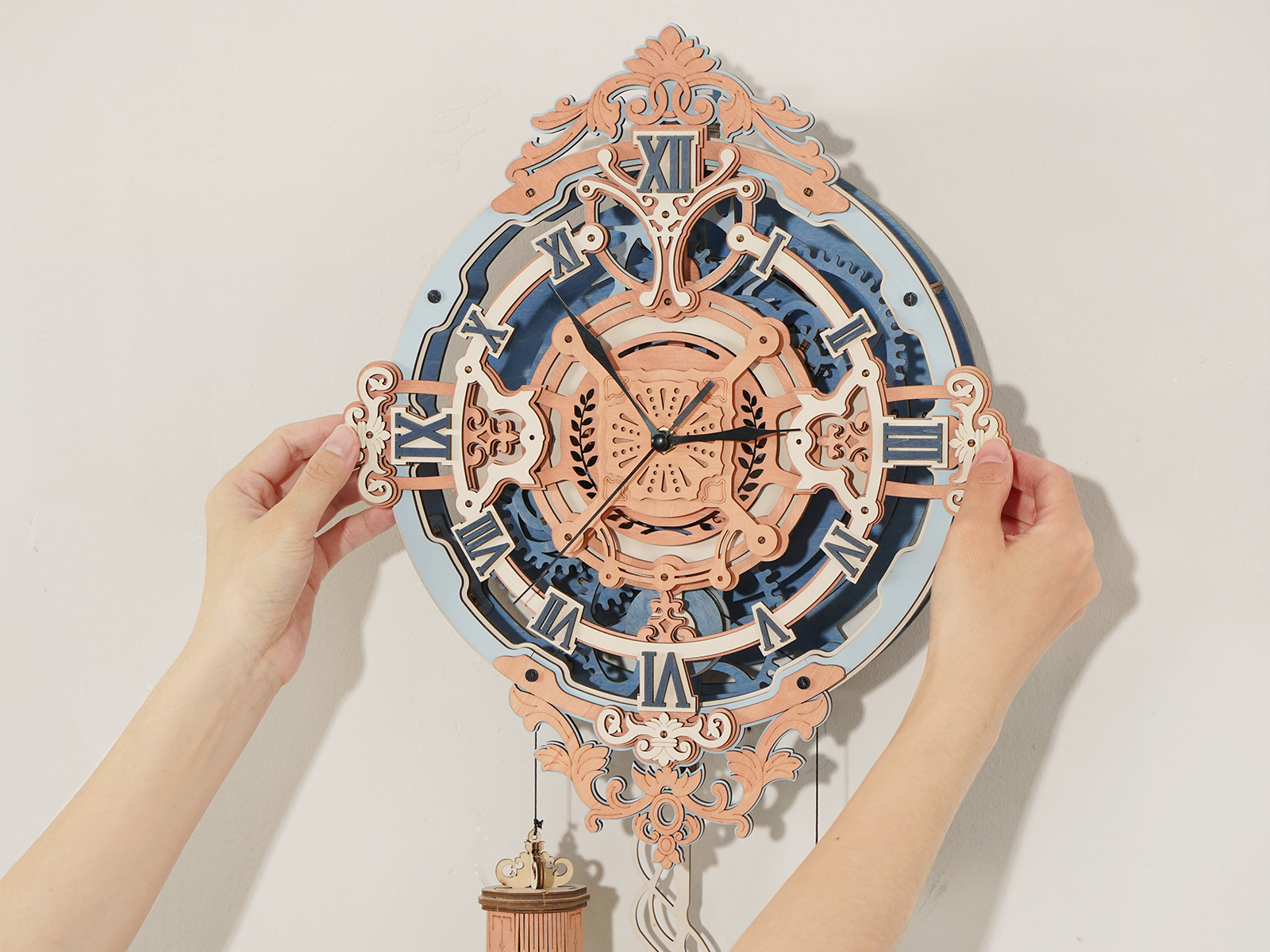 This clock is an upgrade from previous clock models, offering both practicality and style. It is not only a 3D wooden puzzle but also a functional wall clock with a romantic design. It is sure to add a touch of beauty to any room.
3. ROKR Magic Amusement Park series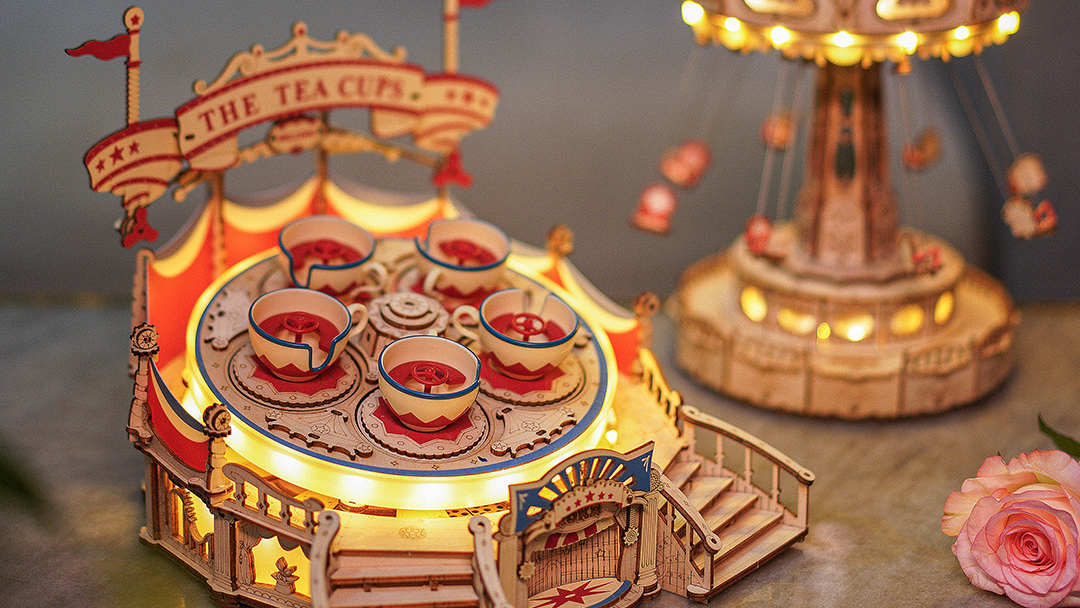 This series takes you on a fun-filled journey to an indoor amusement park. The ROKR designers have creatively designed 3D puzzles of former amusement parks and currently offer three products, including Parachute Tower EA01, Swing Ride EA02, and Tilt-A-Whirl EA04. If you have a favorite or a new idea, feel free to share it with us, and your suggestions may become a reality.
Learn more: A Trip to An Indoor Amusement Park! The 1st Station - Swing Ride EA02
4. ROKR Mechanical Age - Mechanical Beetle 3D Model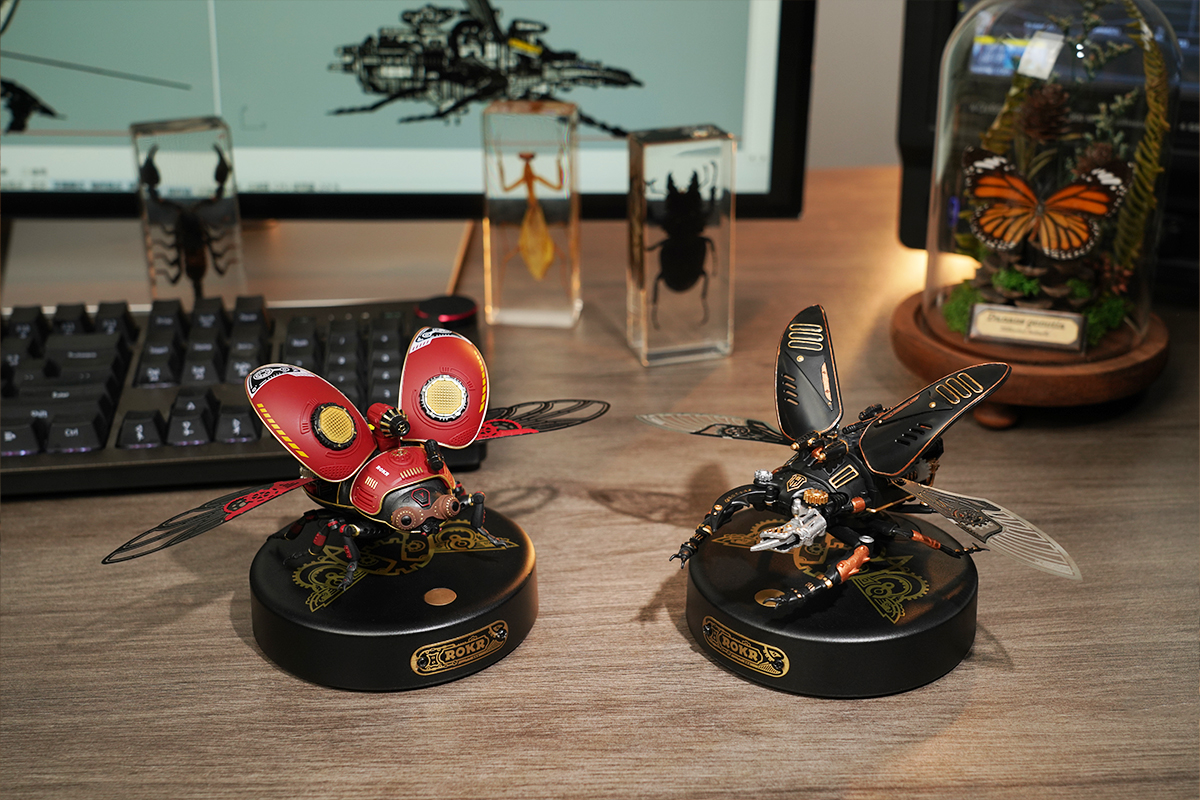 This series is ROKR's attempt to break the mold, featuring metal and plastic materials and more advanced technology compared to their previous 3D wooden puzzles. So far, ROKR has released two products, Scout Beetle MI02, and Storm Beetle MI03.
Learn more: Coolest Mechanical Beetle Model Kits
5. ROKR Engineering Vehicle Series
ROKR engineering vehicle series consists of five models, including Forklift TG413K, Excavator TG508K, Bulldozer TG509K, Dump Truck TG603K, and Road Roller TG701K.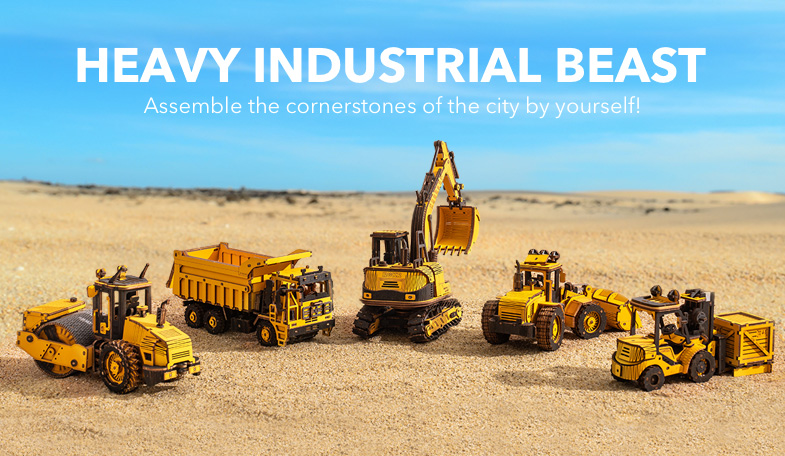 Car model lovers don't miss it! And what sets this series of kits apart from other 3D puzzles is that they have been beautifully pre-colored. No matter where you place them, they will be the center of attention, especially for kids.
Learn more: ROKR Engineering Vehicle: The Charm of The Machinery & Technology
6. Rokr Musical Instrument series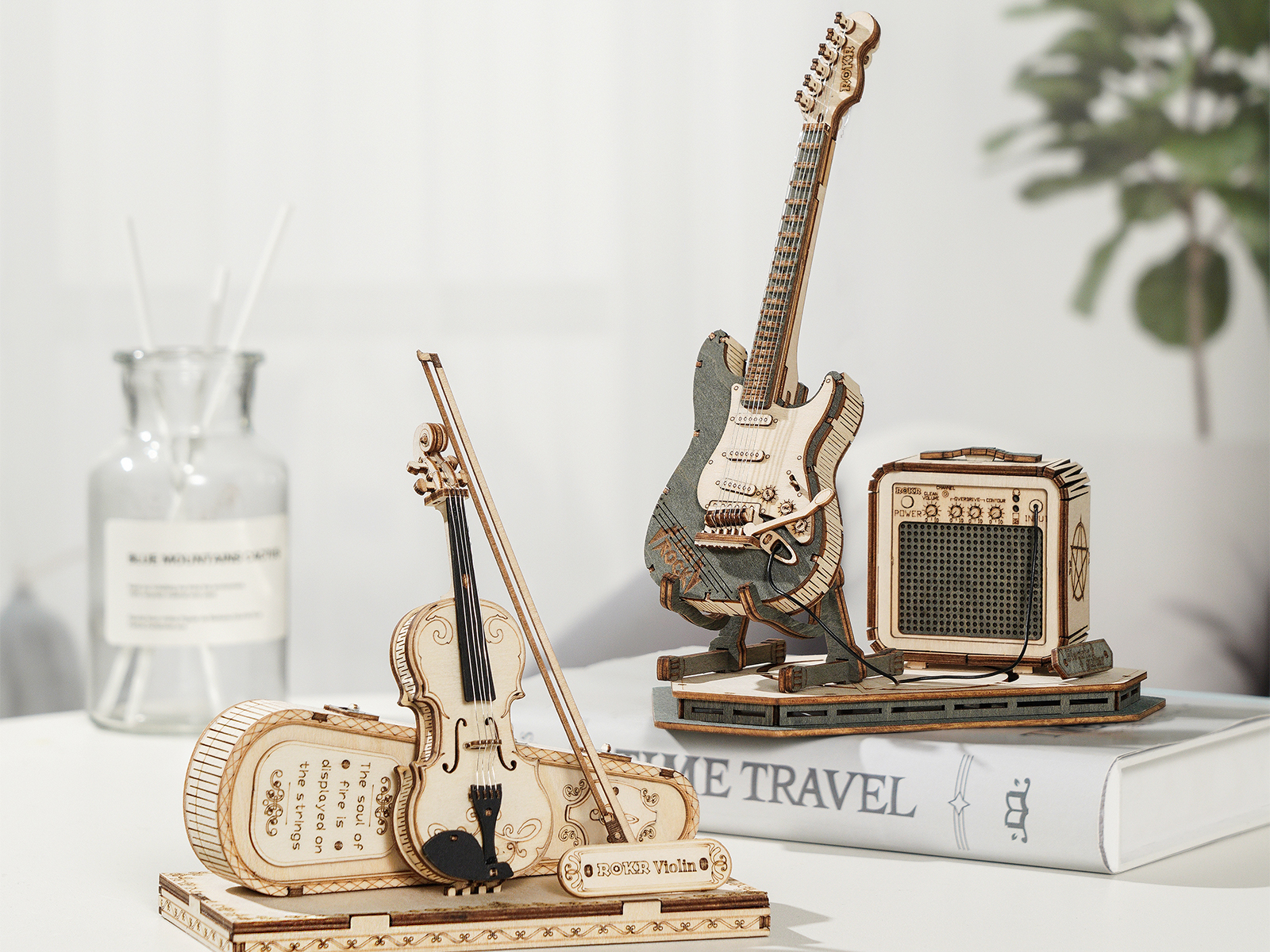 This year, ROKR has assumed responsibility for creating musical instrument puzzles that Rolife previously developed. We have expanded the range of musical instrument puzzles and elevated their appearance and design compared to previous versions. In other words, these newly released musical instrument puzzles are visually appealing and pleasing. BTW, These two puzzles are easy to assemble, making them ideal for beginners. The newest offerings from ROKR include ROKR Violin Capricio Model TG604K and ROKR Electric Guitar Model TG605K.
Learn more: 4 Instrument Wooden 3D Puzzles For Music Lovers
Rolife DIY Craft kits
1. Rolife Stories in Books Series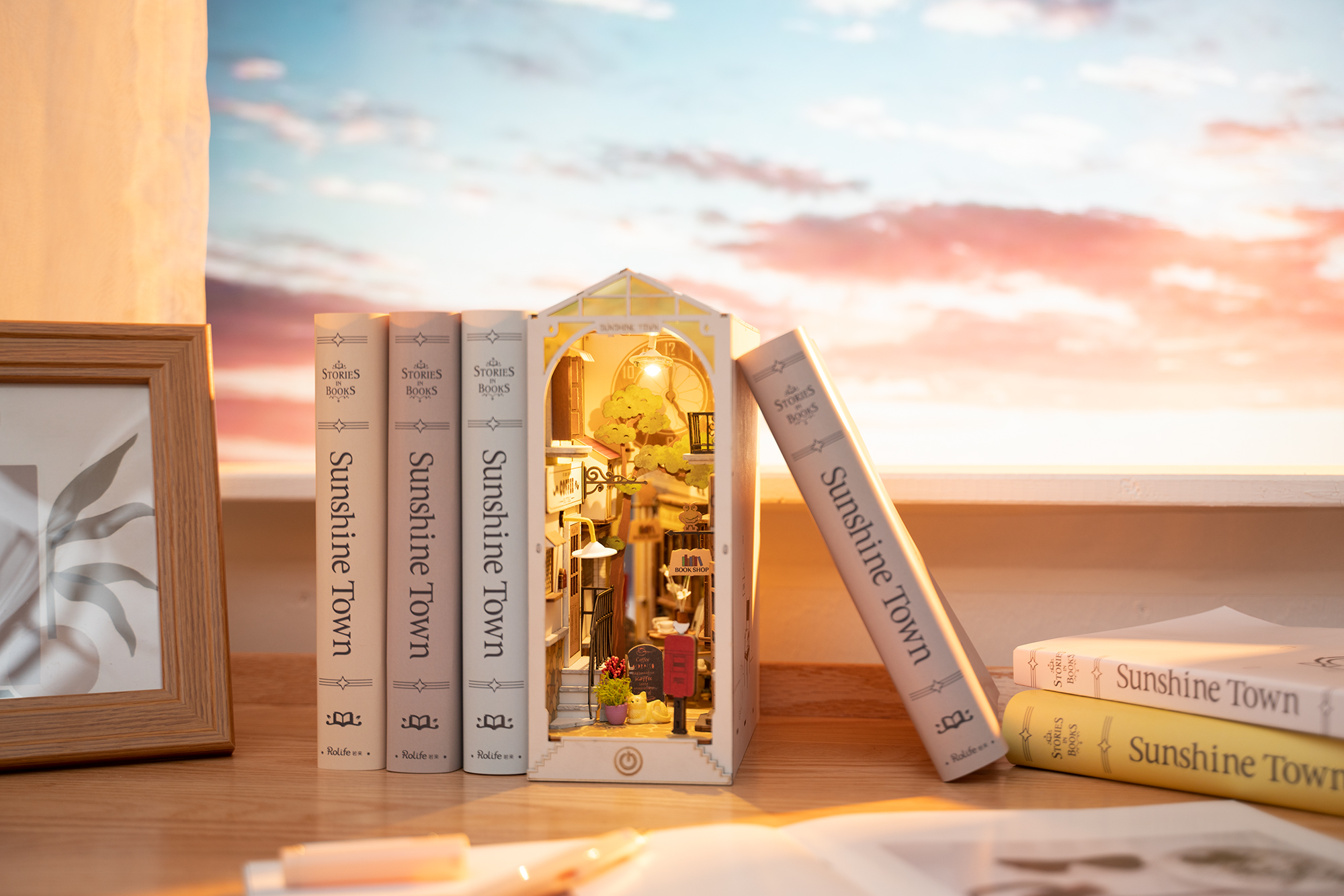 This series is Rolife's new attempt at the field of creative DIY. We combined the DIY attributes of previous miniature houses to incorporate some beautiful scenes into these beautiful kits. These kits typically contain 200-400 parts you'll need to put together yourself. Once assembled, they will be the perfect Book nook shelf insert and can be used to decorate your bookshelf.
This series includes four book nook kits: Sakura densya, Sunshine Town, Magic House, Time Travel, etc.
2. Rolife Nanci Secret Garden Surprise Figure Dolls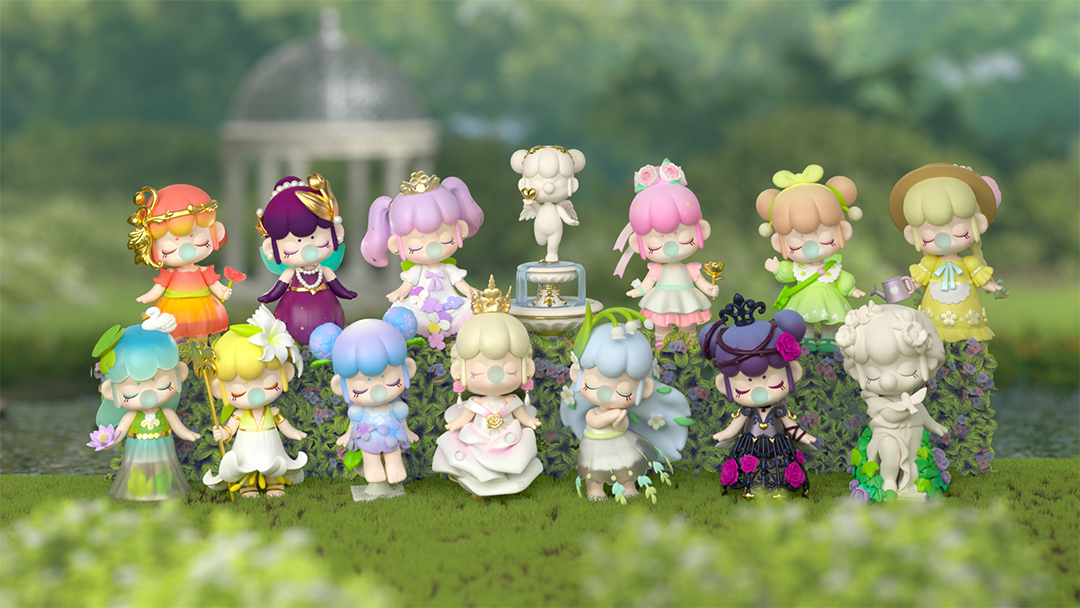 Rolife Nanci steps into a mysterious garden where she assumes various roles like that of a fairy, a statue, or even a noble queen, each with its unique mission. She infuses life and optimism into this garden by taking on these different roles. The purity and naivety of young girls always leave a lasting impression on those who visit Nanci's secret garden.
3. Rolife Secret Garden Box Theater Series
This is a new attempt. The designers of Rolife hope to extend more product categories in the past miniature houses. So DIY Miniature House Box was born. This series includes four box kits: Dark Castle DS023, Bear's Sweet DS024, Starry Melody DS025 and Sweet Forest DS026. They're in the form of box theatre, showing you four different styles of fairy tale world to interpret our changeable but always romantic heart.
In addition, This series matches perfectly with our related Rolife Nanci Secret Garden Series Figure Dolls (or other 7-9 cm figure dolls of your choice).
Learn more: Welcome to Rolife Secret Garden - DIY Your Theater Box Dollhouses
4. Rolife Suri Gods Creation Surprise Figure Dolls
Welcome to Suri's world of the gods. In this world, Suri plays different figures. Each character shows their power. They're well-behaved, charming, fairy, or brave.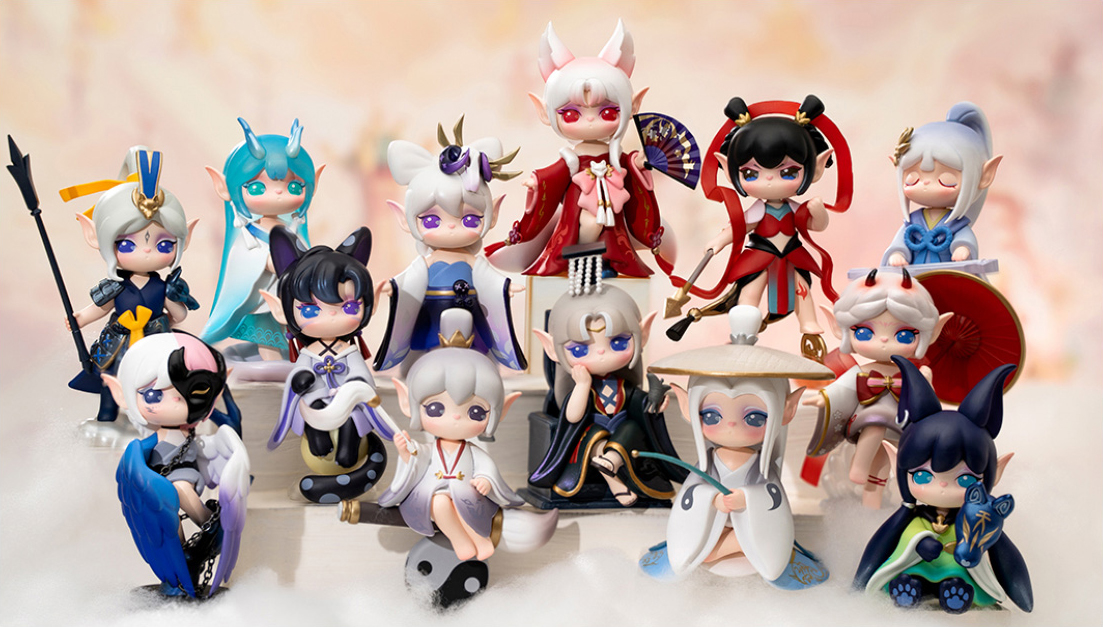 Trust me. Each figure in this collection is delicately designed. The excitement builds as you anticipate what you might find inside the box, but once you open it, you will be drawn in by the detailed character and captivated by its incredible narrative.
5. Rolife Super Creator - Super Store Series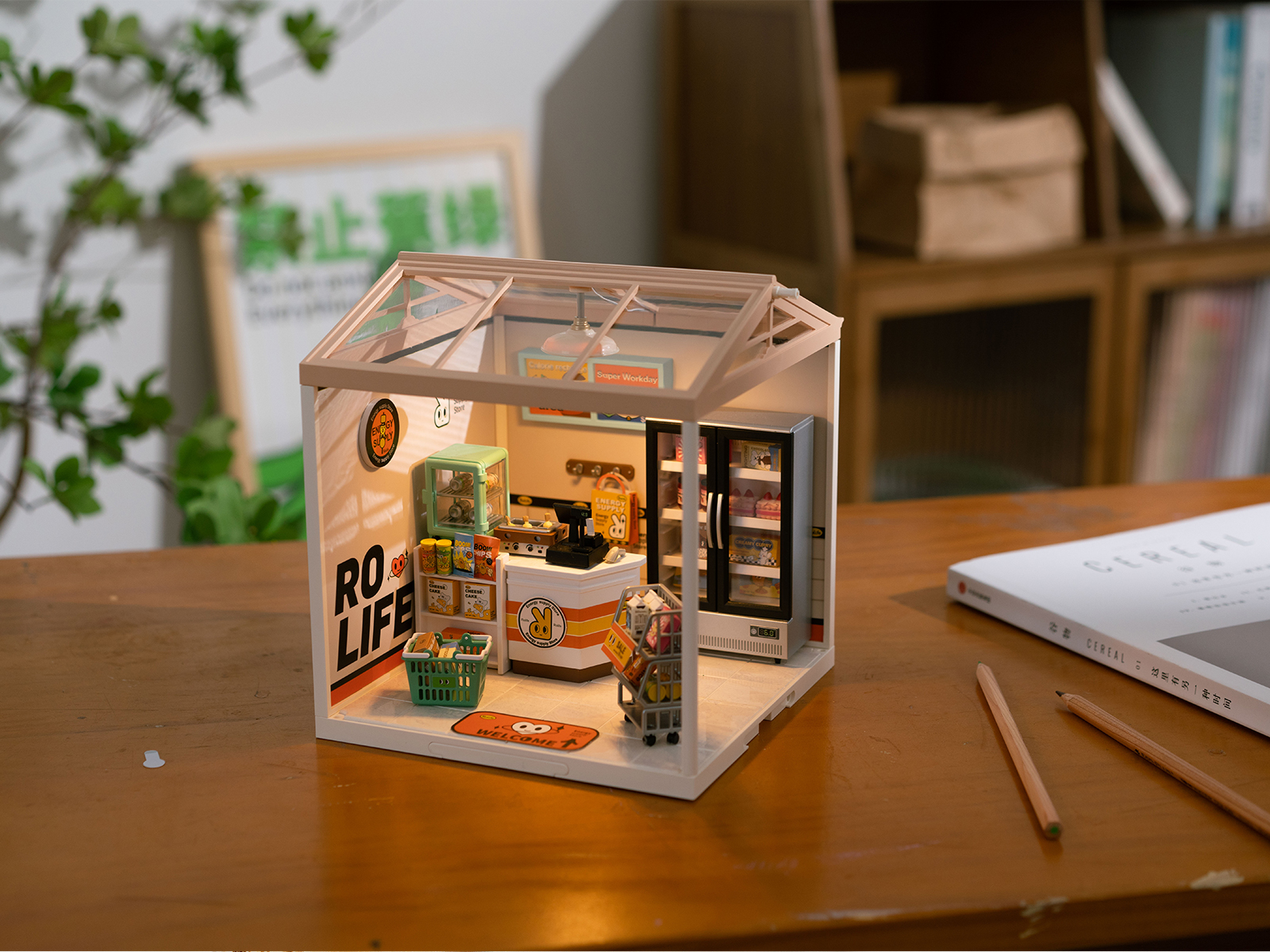 This series is also a new attempt. The designers of Rolife hope to create a more free and creative super world. In terms of raw materials, we replaced wood with plastic, which solved the problem of needing glue and paint. It reduces the difficulty and enables 14+ children to complete the construction independently. Additionally, the plastic structures have improved appearance, colour, and versatility, providing more options for play.
This Super Store series includes three stores: Daily Inspiration Cafe DW001, Energy Supply Store DW002, and Super Fruit Store DW003.
Learn more: How to Build A Mini Convenience Store: New Rolife DIY miniature dollhouse kits
6. Rolife Mystic Archives Series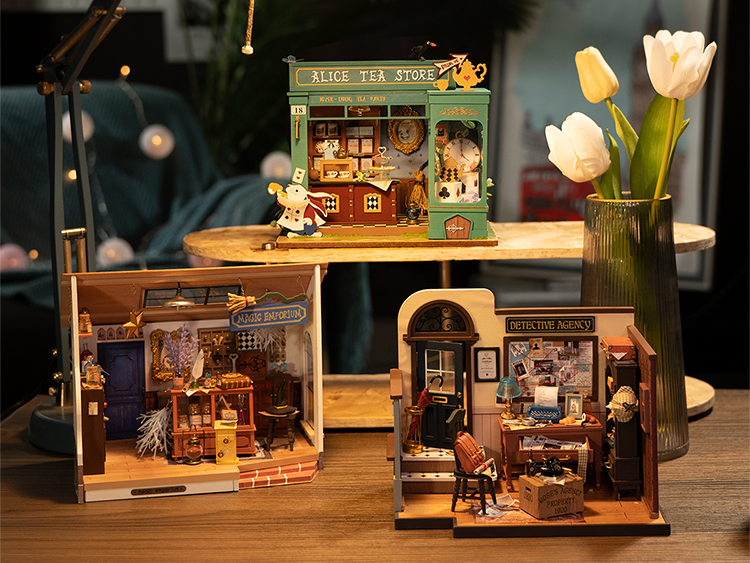 This series is worth recommending! When the Rolife team is developing new products, they will combine their previous experience or lessons learned to upgrade the new products. So, every time a new product is released, it tells people we have improved again. This series is very intriguing, both in terms of product details and background stories. Once completed, you will be impressed by their details and atmosphere.
This series includes Kiki's Magic Emporium DG155, Alice's Tea Store DG156 and Mose's Detective Agency DG157.
Learn more: Rolife Miniature Dollhouse: Kiki's Magic Emporium
7. Rolife Rainbow Candy House DG158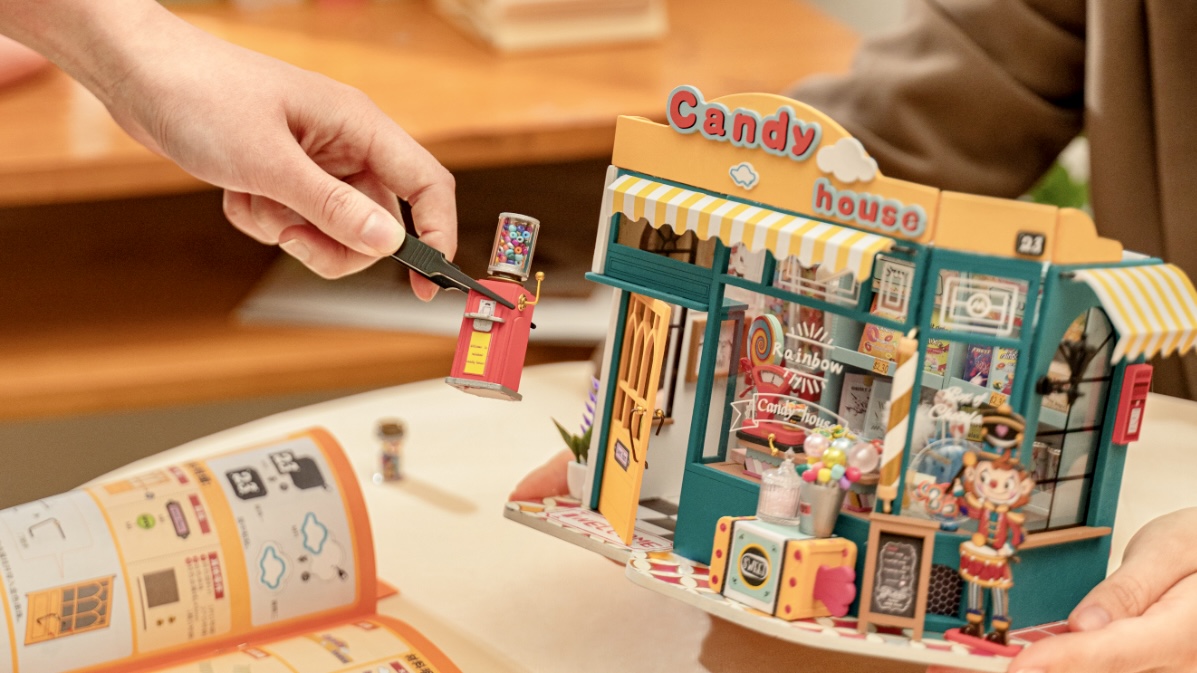 This product is a separate product. It is the same as but different from the Rolife Mystic Archives Series mentioned earlier. The style of DG158 is no longer mysterious but highlights the sweet and lovely atmosphere. Isn't it the candy house we dreamed of in our childhood? Candies of various colours are piled up throughout the whole house. You will feel happy if you can build such a warm and beautiful house yourself.
Learn more: Rolife Rainbow Candy House: Make Your Collection Even Sweeter
Some thoughts
1. Robotime has been improving the service process to serve every customer better. But sometime, customers will be disappointed because of some mistakes. Please allow us to apologize for these mistakes. We will also learn these lessons to prevent the recurrence of these problems.
2. Besides improving various services, Robotime has also established a care team to donate our products to some teams and organizations needing help. This year, we have donated materials to many non-profit organizations. And next, we will continue to look for some non-profit organizations to help more people.
3. Robotime's team is energetic and eager to challenge difficulties. In the past year, we have encountered various problems, which is meaningful for us because it will make us grow. In the new year, we will continue to optimize our products and services to satisfy as many customers as possible, which is our mission!
Note: The above thoughts are only outlined, and the specific details are not disclosed.
In 2023
Robotime will continue to develop more funny and creative DIY crafts, so we hope you can continue to love and follow Robotime. And then, we sincerely accept any suggestions and criticism. If there is any question you want us to know, please let us know in time. Best wishes!